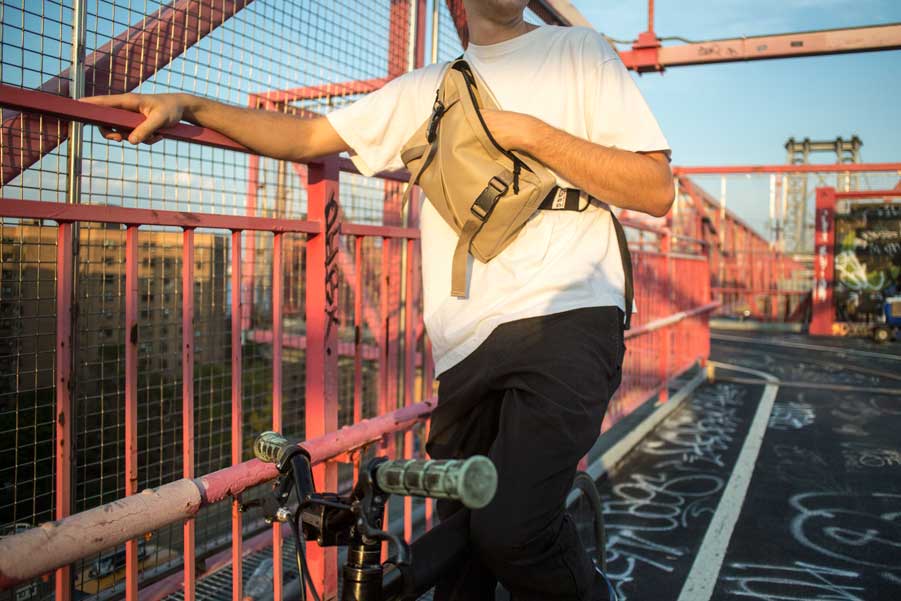 BANDOLIER – THE PERFECT CROSSBODY SLING BAG FOR A DAY RIDE
This is the bag for those light days for a day ride or a quick jaunt to the park when a hip bag is too small but a messenger bag is too much. With one pouch for the front and one for the back, you can carry a sandwich, a map, an extra shirt, a camera, your ebook, a drink, an extra tube and still have room thanks to the diagonal expandable pleat. The best part of the patent pending Bandolier is that you can always easily access either pouch on the fly without ever taking off the bag or dismounting from your bike by just swinging the bag over your shoulder. Cinch it up like a messenger bag and it stays in place while you ride. The bag is compact enough to wear under a jacket, particularly useful if you get caught in bad weather. But if you do get caught off guard the bandolier is made of tough water-resistant poly duck that is vinyl backed with a large interior pocket made of the same stuff.
DETAILS:
▻   water-resistant vinyl backed 600×300 poly duck, poly straps, hook and loop closure, YKK zippers
▻   each pouch is 13 x 11 x 7.5 x 2 inches (top width x bottom width x height x depth) (pouches have diagonal pleat for extra expansion)
▻   zippered interior pocket 10.25 x 7.25 inches
▻   main pouch has double zippers (to access from either side)
▻   zipper pulls for easy access even with gloves
▻   pouches are positioned with hook and loop closure and are removable
▻   1 inch wide squeeze buckle straps, straps can carry items as wide as nearly 12 inches
▻   snap hook for easy buckling and unbuckling
▻   2 inch wide main strap for comfort
▻   2 inch ladder lock for quick loosening and tightening
▻   able to fit iPad, kindle, magazines, 11 inch U lock, digital SLR camera (Canon T1i pictured)
▻   pouches are designed to fold in half by sliding snap buckles through bottom loops
▻   able to carry a skateboard using straps (not recommended for long boards)
▻   MADE IN THE NYC AREA
$140 Sand Beige SOLD OUT, Duck Hunter Camo/Sand Beige SOLD OUT, Coal Black SOLD OUT, Fire Red SOLD OUT  
MORE BAGS EXPECTED HOLIDAY 2023.